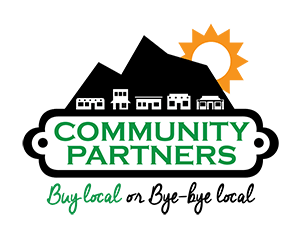 What Is A Community Partner?
A Community Partner is committed to helping our local non-profits, residents and businesses … TOGETHER we will increase awareness of community needs, grow our businesses and offer opportunities in exchange for donations.
You, the Community
Support your favorite local Non-Profit and get a local business gifts in return!  Some of the options to choose from include:
Supporting Member privileges
Discounts at local restaurants
"Free" product coupons
Gift Cards for local services
Auction items such as Art & Cars
Local Businesses
Show your community support by donating your services / products to your favorite local non-profit. Receive marketing benefits such as:
Social Media posts
Your Logo / Business Listing on ALL Community Partner websites
Reserved Sponsor Advertising
Buy Local … or Bye Bye Local!
Non-Profits
When you join the Community Partner Program, Tech 4 Life will improve your website to include a variety online donation options:
Recurring Monetary Donations
One-time Monetary Donation
Shop & Donate Partner Page
Auctions
Other Fund Drives/Special Events
How Businesses Can Become A Community Partner
By becoming a Community Partner, businesses will have use of the non-profit logos for marketing efforts and have the ability to offer products, coupons or discounts on the member non-profit sites. By making these donations to our non-profit partners, you will increase your digital presence and show your community support.
Choose Your Level: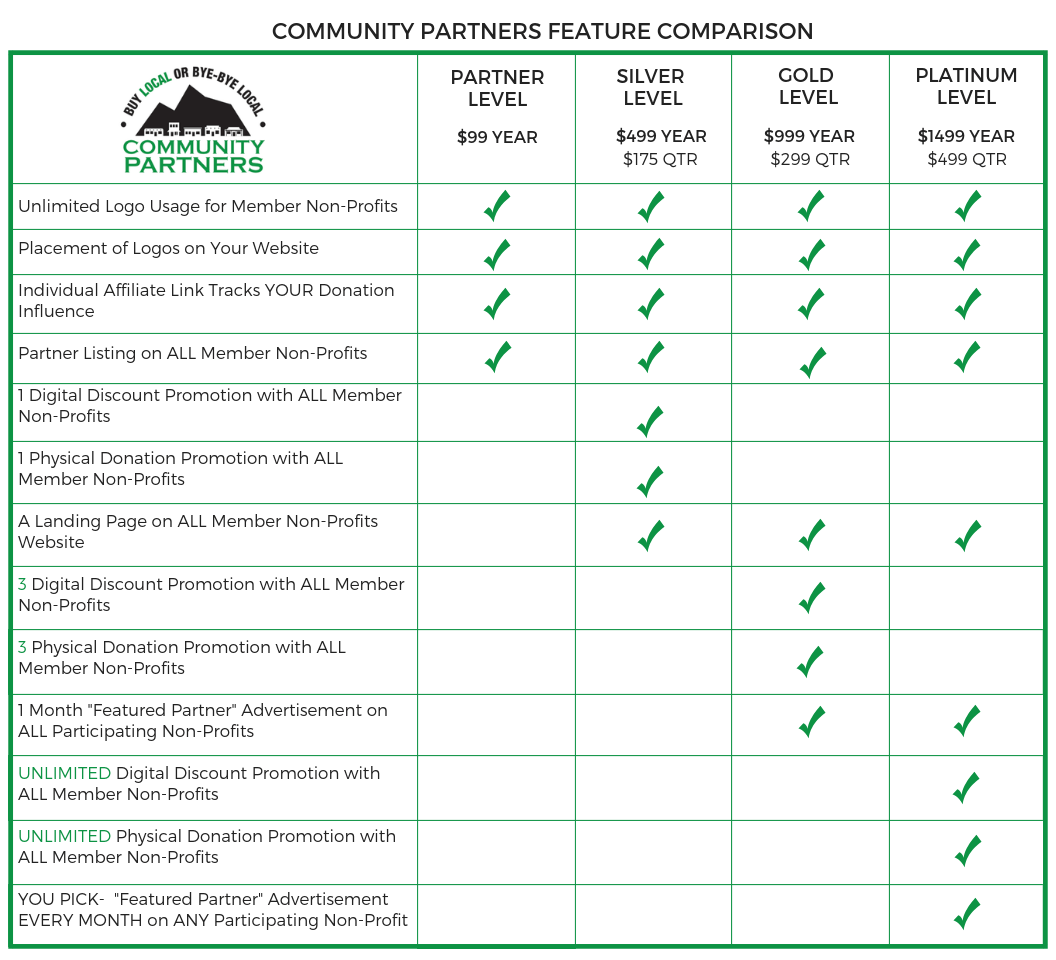 Community Partners FAQ
Can You Define Unlimited Logo Usage? – All Member non-profits license you to use their logos in all your advertising for as long as you are a Community Partners Member.
How Does Logo Placement on your site work? – Tech 4 Life will provide you with digital copies of all the logos.  We will work with your vendor or login to your site, so that the logo's display and utilize your own affiliate link to each non-profit.
How do people find the donations that businesses provide? – Each non-profit has a store and an auction site built into their web sites.   The store and the auctions are professionally marketed just like any other business's on-line store.  All items are donations to the non-profit they are listed on.  Your items will list who the donor (you) with your logo and a link back to your site.   When someone donates by purchasing and item, your logo and information will be displayed.
What is a Digital Discount Donation?  – An unlimited distribution promotion (10% off, free dessert etc.).    The discount length can be limited but the volume of distribution cannot so that it can sent out digitally through email, downloads, etc.
What is a Physical Donation? – Any physical, tangible or limited use item.  It can be your own product(s), a gift certificate, art work, event tickets, dinner for two, free ice cream or anything someone would want to get for a donation to a non-profit.   Physical donations must specify which non-profit store they are to be listed on or the business must provide one for each non-profit.  Otherwise multiple sales could happen simultaneously.
What is meant by Digital / Physical Product Promotion? – When you give a digital discount or physical donation, each non-profit will publicly thank you and promote that donation.  You can then share that on social media and/or use that for your own promotion, digitally or in print.   Promotions will always be professional and typically digital.  Social Media, email and newsletters are the most common ways these will be promoted.  The type of promotion will vary depending on the value or interest of a specific donation.  For example, a free car would receive significantly more exposure than a free ice cream cone.
What is a Landing Page?  – Each member non-profit site has an area designated to Community Partners.   Silver Level Member's (and higher) logo will be linked to your own personal page ON THAT NON-PROFIT'S site.   This page will have any content you provide us about your business.   You may provide logos, pictures, text, deals etc. with links back to your main website.   This expands your digital presence and includes links from other sites back to you, all of which increases your search engine presence.
What is a "Partner Listing" on a non-profit site? – Partner level members will have a logo linked to their own web site listed on all member non-profit sites.  Each non-profit member site has a page just for partners to be listed.   Other levels combine the logo listing with individual landing pages to increase your digital presence.
How Does a "Featured Partner" advertisement work? – Send us your ad or tell us your promotion and we will create an ad for you.   These ads rotate on the landing pages of every member non-profit.
What is "UNLIMITED Physical and Digital Donations" in the Platinum Level? – Every time you donate a new item, each non-profit will promote that once.  You can do that UNLIMITED times.
More Questions? 
Contact Tech 4 Life at (480) 488-0773
OR