Tech 4 Life has been deploying and maintaining WiFi systems since 2003.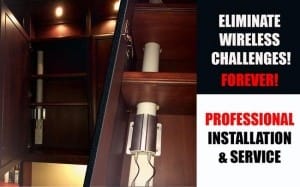 Wireless devices require a wireless network to connect.   When the Wi-Fi signal isn't reliable, devices using Wi-Fi aren't reliable.  This is any device such as your computer, television, tablet or speakers.
Residential and Commercial needs often combine at our client sites.   We create systems that cover entire campuses like Carefree's Spirit in the Desert Retreat Center  or high volume Public Wi-Fi at the Desert Foothills Library.
Our systems are unique and secure which are primary factors for your house or your business.   Wi-Fi is one of the easiest way for a thief to attack you.   We DO NOT recommend purchasing a mainstream Wi-Fi solution at a retail store.   Unique and secure solutions are affordable and more reliable than traditional systems.
Tech 4 Life does not sell hardware, so we are not tied to vendor relationships.  We recommend the system that BEST fits your need only!
Email us with your questions.   We are glad to to help you understand ALL of your options.