We support email from soup to nuts!
Gmail, Outlook and all of the others.
Email comes from many providers on every device imaginable and has hundreds of software packages to help you manage it.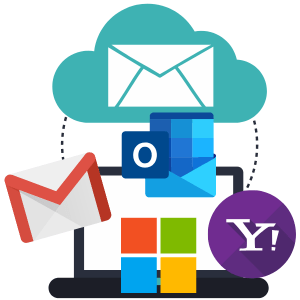 And Tech 4 Life has seen them all!
If you came from the corporate world, you probably are most comfortable with the Microsoft Outlook mail client.    It's big and it's complex but we know every detail.
A very high percentage of our clients are on the Apple platform.   Many use gmail and sadly, AOL on Apple mail.   We have successfully migrated huge amounts of email in and out of Apple mail on every platform.   Want to use Outlook software on your Mac?  We've got you covered there also.
Privacy and security are the biggest challenges facing email today.   Phishing emails are generating millions of dollars in ransoms paid through ransomware infections.  Viruses plague as many Apple users as PC users now, most of which come from email.    Hackers have written many Internet bots to hack passwords on less secure systems like AOL.
We have all of the security systems available to us that can protect YOU and your loved ones.   On your phone, on your computer, online we live it all, every day.
AOL – Someone enters our office almost EVERY week that has had their AOL account hacked.  Using AOL is equal to living in a dangerous neighborhood without locks on your doors or bars on your windows!   We can help you migrate painlessly to another email platform without loosing ANY emails from ANYONE!
BUSINESS EMAIL 
Tech 4 Life has been a Go Daddy reseller since 2004.   Setup of custom domains with email was the primary reason to start that relationship.
We can get you on your own domain with either your choice of interfaces:  Microsoft, Gmail, Go Daddy mail, etc.  Apple does not allow custom domains on their email yet.
We can also convert ALL of your email from any platform to the platform of your choice.   Tech 4 Life has converted many 50+ user systems over the years from one email platform to another and never lost data.